Dining
The Dining Room is delightfully decorated and with separate tables is a pleasant setting for the liberal Welsh breakfast, served to satisfy the most fastidious.
Start the day with a satisfying selection from our extensive breakfast menu. Help yourself from a choice of cereals, fresh fruit, grapefruit, prunes and yoghurts before ordering a traditional Welsh Breakfast.

Our Welsh Breakfast consists of either Fried, Scrambled or Poached eggs, Bacon, Sausage, Tomato, Baked Beans, Mushrooms and Hash Brown.

Scottish Kipper Fillets are also available.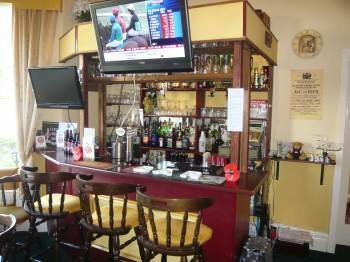 Unwind and enjoy your favourite drink in our licensed lounge bar - a place in which to meet old friends and make new ones, or simply relax after a sight seeing day, whether it's playing cards, watching television or just reading a book.
Dining Statistics: 0 click throughs, 1033 views since start of 2017

Dining